Regular price
$89.99 USD
Sale price
$46.99 USD
Unit price
per
Sale
Sold out
The Longest Lasting IPX7 Wireless Earbuds,
The world's most advanced true wireless earbuds
 

UNI
 designed with superior Hi-Fi sound and ultra-long playtime. It's your perfect workout companion with secure fit and an
IPX-7 waterproof
rating.Designed by audio's finest award-winning engineers, the waterproof wireless headphones brings next-generation technology to today's active listener.
It's about time. Say goodbye to wires. Say hello to true connectivity. UN With lightning-fast 
Bluetooth 5
 technology, a certified 
IP7 waterproof
and dustproof rating, 
180
-Hour battery life
, these truly wireless, auto-pairing earbuds are exactly what you've been waiting for.
Developed after extensive research to meet the needs of the most discerning listener.UNI With a host of premium features like all-day battery life,
 total waterproofing
, 
noise cancellation 
and 
smart assistant compatibility
(just to name a few), these earbuds are ready to take your listening to the next level.
✅ Never-Drop Design✅ Over 360-hour Battery Life ✅ Superior Sound Quality✅ IPX-7 Waterproof ✅ Powered by aptX✅ Ergonomic Design ✅ Low Latency Bluetooth 5.0✅ Intuitive Touch Sensor
✅

 

C

harging power for your smartphone(As your mobile phone charging bin)
Never-Drop Design
Ergonomic
 and 
never-drop
 design.Uitra liht-weight with slicone ear buds guarantees comfortable wearing for a long time.
Tired of running out of juice when you need your music the most? The  charging case has a 2200
 mAh
with
 fast charging
 premium built-in battery. Once fully charged, the charging case can support 
360 hours of playtime
 for the earbuds. Every time you finish listening just put the earbuds back into the case to be recharged. For 3 to 4 hours of use a day, a fully charged charging case will let you enjoy wireless music for up to a month between charges! Also 
Back Up For Your Devices
(As your mobile phone charging bin)
Back Up For Your Devices(As your mobile phone charging bin)
UN w
ith a massive 2200mAh capacity battery, the charging case can provide additional charging power for your smartphone or other mobile devices. It's a reliable emergency power supply in times of need.
Our team has spent thousands of hours and tested nearly 1000 different drivers with the best audio engineers available to push the boundaries of audio technology to create.
Superior technology means superior sound: Experience top-shelf sound quality and bask in its incredibly powerful bass, crisp mid-highs, and crystal clear vocals, and have your own personal bubble that encompasses you in premium acoustics.
Features a customized driver made with graphene - a highly conductive, flexible, and strong material consisting of latticed carbon atoms bonded in a hexagonal pattern. This advanced material allows to produce mids and highs that are rich in details and perfectly balanced with the bass tones.
Achieves CD quality high fidelity sound by employing
aptX technology
. aptX audio enables Bluetooth wireless devices to deliver High Definition (HD) audio. It works by preserving sound data during transmission by constantly sampling audio between one moment in time and the next to accurately reproduce the best audio even after compressing and decompressing. It is also uses low battery consumption & has low latency for the best possible wireless listening experience.
One unfortunate issue with most wireless headphones on market is latency and drop-outs. It's especially unbearable when you are watching a movie or playing games.
Features Bluetooth 5.0
connectivity to transmit sound faster in a super stable way. In addition, it can also seamlessly sync with visual media thanks to its Low Latency aptX feature.
Features the latest and greatest in Bluetooth technology. With Bluetooth 5, you get the strongest and most reliable connection yet for consistently seamless connectivity between your devices. Strongest connections and speeds means more capacity for data transfer, which means more incredibly detailed and robust sound dimensions and zero audio-video lag, only possible with this cutting edge Bluetooth technology.
Earbuds are
100% IPX7 rated waterproof
inside and out for sports and protection from harsh environments. This means the earbuds can be fully submerged in water up to 1 meter (3.3 feet) deep for 30 minutes. So now you don't have to worry when you're swimming, surfing, or hiking in the rain.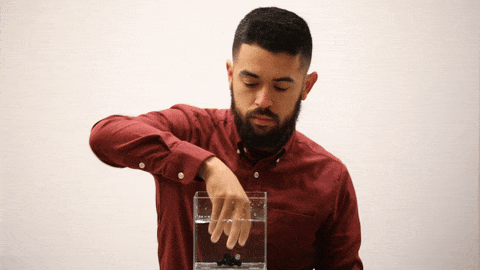 YOU ASK. THEY ANSWER. 
ACCESS YOUR FAVORITE VIRTUAL ASSISTANTS IN AN INSTANT.WITH A SIMPLE TOUCH, YOU CAN TALK TO SIRI OR GOOGLE WITHOUT HAVING TO TAKE OUT YOUR PHONE
Voice AI Control (for Siri, google, Microsoft Voice AI)
Intuitive touch sensor, just tap to activate

We've spent months collecting data on thousands of ears across all 6 continents to create the perfect combination of  proprietary form factor, ear tips, and wings. While ears are unique like fingerprints, our analysis found the ergonomically optimal tilt, angle, and contact points to securely, but comfortably, place the wing to maximize comfort, sound seal, and distance to eardrum.UNI can achieve a comfortable and secure seal in every ear with its unique system combining the use of both earbud tips and wing tips.
Our ergonomic design tested against a variety of ears ensures that everyone can have unhindered access to superior sound.
You can't control how noisy your environment is. But you can control what you hear. Earbuds use the advanced
Qualcomm cVc 8.0 noise reduction technology
to reduce ambient noise. Creates an incredibly immersive and clear sounding audio environment that keeps unwanted sound out.
Share
View full details